Protocol Prose Book Club - December 2022 Meeting
Tuesday, December 06, 2022
,
5:00 PM
-
6:00 PM EST
Category: Member Exclusive Events
---
The Protocol Prose Book Club reconvenes at 5:00pm EST on 6 December 2022.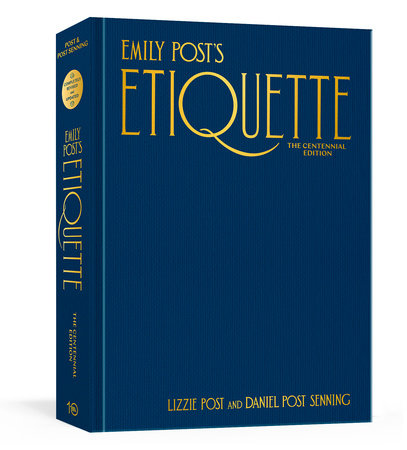 The next meeting of the Protocol Prose Book Club will feature Emily Post's Etiquette, The Centennial Edition with author Lizzie Post joining us for the discussion.
A description of the book from Penguin Random House Publishers:
This centennial edition of Emily Post's classic guide to etiquette has been completely rewritten with up-to-date and comprehensive advice on the need-to-know manners, customs, and best practices of today.

For the past one hundred years, Emily Post has been America's definitive source for how to navigate—and enhance—every social interaction. In an increasingly diverse and intersectional world, the need for a trusted primer on how to put people at ease and treat others with confidence and kindness has never been greater.

Lizzie Post and Daniel Post Senning—the great-great grandchildren of Emily Post and co-presidents of The Emily Post Institute—provide a fully updated and relatable guide. From advice on entertaining, table manners, and using titles and pronouns, to personal and professional communication etiquette, this stylish and essential reference provides thoughtful guidance on how to do it all well. Rooted in a foundation of consideration, respect, and honesty, this edition continues the Post family legacy of upholding traditions while moving forward with the times. The book covers:
Etiquette classics like table manners, gift-giving, thank-you notes, greetings and introductions, and everyday conversation
How to be a good host and a good guest, from handling invitations and setting yourself up for success to plus-ones and dealing with mishaps 
Tech etiquette including video meetings, parties and classes, and how to politely handle devices, home security, and AI 
Managing hard times, from what to say (and what not to say), to the tradition of condolence notes and how to offer support following a death, miscarriage, or tragedy
Tipping practices in the age of rideshares, tough times, and ever-prominent payment screens.
This book also includes handy reference guides for each chapter that make it easy to find the Posts' most searched for content, like a gender-free attire guide, a soup-to-nuts entertaining chart, sample invitations, and more.

With Emily Post's Etiquette, The Centennial Edition you'll have everything you need to build successful relationships in all aspects of life as you move through the world with confidence and ease.
Read more about the authors
Lizzie Post is co-president of The Emily Post Institute (EPI) and has worked as an etiquette author and spokesperson for the past 12 years. She has authored six Emily Post titles and cohosts the Awesome Etiquette podcast, a weekly Q&A show now in its fifth year. Lizzie is a popular source for the media on the subject of etiquette.
Daniel Post Senning is the great-great-grandson of Emily Post and the author of Manners in a Digital World and co-author of past editions of Emily Post's Etiquette and The Etiquette Advantage in Business. Dan teaches business etiquette seminars worldwide and co-hosts the Awesome Etiquette podcast with his cousin Lizzie Post. 
The Protocol Prose Book Club is an exclusive benefit for PDI-POA members. If you are interested in participating in the book club or other members-only events, we invite you to consider joining PDI-POA!
---
Contact: [email protected]