Protocol in Action
The Importance of Protocol and Diplomacy
Ann Beard, Founder, Protocol & Diplomacy International - Protocol Officers Association (PDI-POA) has recorded her thoughts about the importance of protocol and the characteristics of a protocol professional.

---
Global Spotlight on Protocol
Hear a conversation between PDI-POA members Bryn MacPherson (Toronto, Ontario, Canada) and Jean Paul Wijers (The Hague, Netherlands) about protocol in the first video in our "Global Spotlight on Protocol" series!
PDI-POA Global Spotlight on the Netherlands from PDI on Vimeo.
Members regularly share stories and reflections on particularly memorable days in their "protocol life." We are delighted to share a sampling of our members' experiences that demonstrate what protocol looks like in action.
A Day in the Protocol Life of Daniel L. Darnell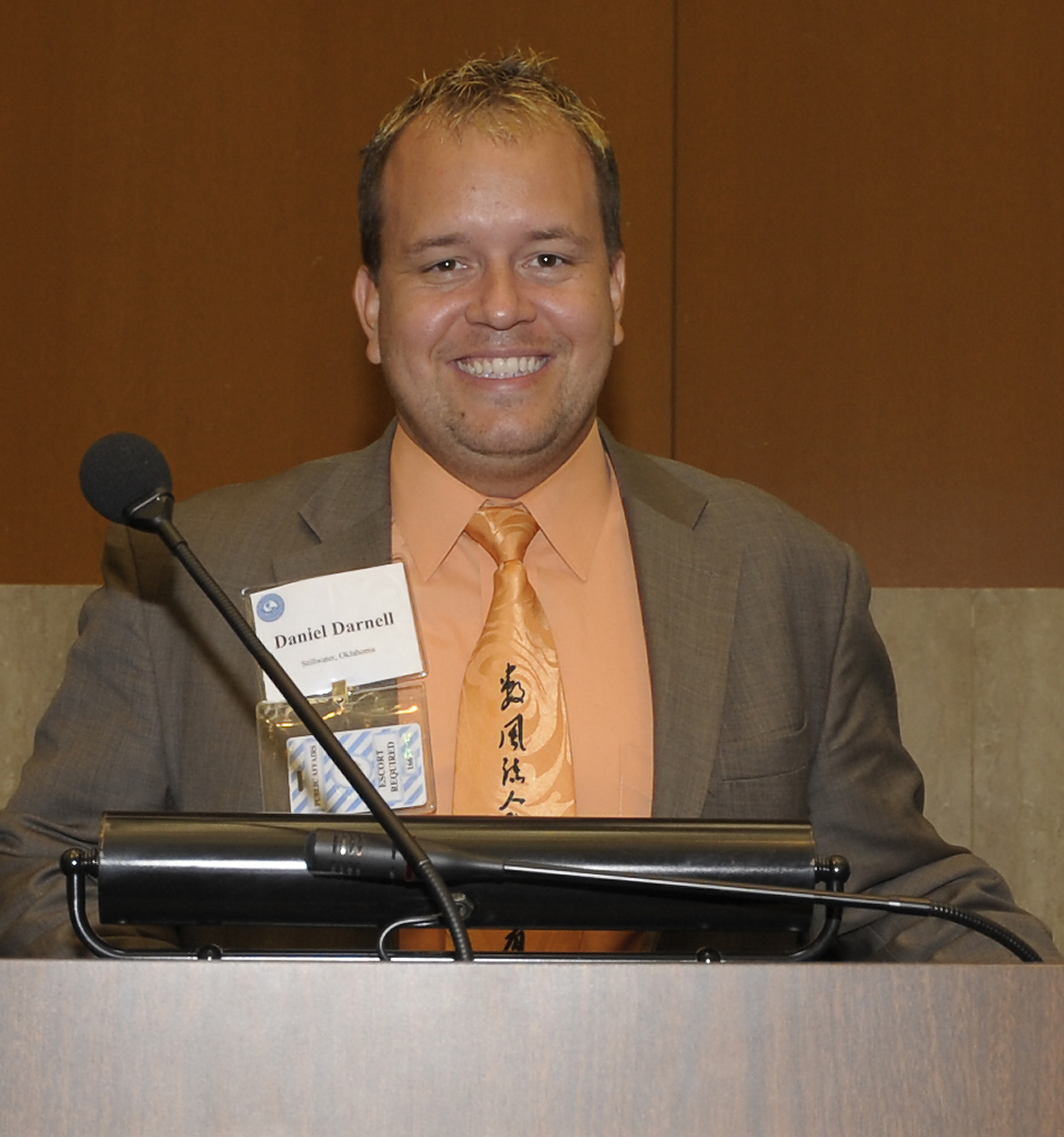 When Details Matter and When They Don't 
Today marks the 12th anniversary of the beginning of my protocol career! I was honored that Leslie asked me to contribute a story, and even more so when I realized that anniversary and another one tomorrow.
In 2010, then-recently-former U.S. Secretary of State Condoleezza Rice visited my beloved Oklahoma State University. As I reflect on the events of that day, I remember it as a highlight of my protocol career and how my working with details was both positive and negative.
What?? Concentrating on details can be a negative thing for a protocol officer?! Yep!
In the lead-up to the event, I kept asking Dr. Rice's "people" for a title for her presentation. This was going to be used in the promotional posters and press releases, so I wanted something catchy to draw people to the event – beyond name recognition. All they kept sending me was "Remarks by Condoleezza Rice." I begged for nuggets from her speech so I could craft some really cool title. Nope! "Remarks by Condoleezza Rice."
I waited until the very last minute, but finally had to begrudgingly go to press with "Remarks by Condoleezza Rice." Can you hear the deep breaths I had to take as my fingers typed out those words and hit send or print?
Well, to my pleasant surprise, that benign title was the most appropriate one for the talk she gave. My months of emails and hand wringing on that detail proved pointless. Her "Remarks by Condoleezza Rice" to the student body was one of the most impactful speeches I heard in my 16 years of having been on that campus. Today, I even repeat some of them to college students.
When it came to the debriefs of other events before this one, I was told that on the day of an event, I focused too much on executing details of the agenda and lost focus on the people executing those details. I needed the detail fulfilled and didn't acknowledge my gratefulness to the person who was vital to our pulling off a successful event.
For Dr. Rice's visit, I was determined that all involved would feel their worth and know my appreciation. While the details of the day were crucial, people were paramount.
After I escorted Dr. Rice to her awaiting SVU to end the day's events, I realized my goal had been accomplished. I was able to go to my office without the fear of people fires that I needed to put out. All throughout the day, the people from the many departments, colleges, and student groups working to move this multi-faceted agenda along had smiles on their faces and knew their worth. I was able to sit at my desk that night, in peace, and write out all the Thank You letters and emails – a task usually only done after my mind had sorted through extinguishing all the blazing fires.
Focusing on the people vs. the details was part of the success of that day, but focusing on there details had to have its place as well to make the day successful. Details matter in the lead up to the event; people matter the day of the event.
I spent a year organizing this event that involved MANY moving parts. I poured and poured over the agenda until Dr. Rice's short 5.5 hour visit had turned into an 18 page, single-spaced schedule of actions!
As time drew closer, I briefed more of the staff on their roles that day. I advised them to simply find their name throughout the schedule and be conscious of the exact time it needed to be done. I got weird looks because of odd times like 5:02 and 6:23, but I explained that every minute of the schedule was critical for other minutes to happen; we all relied on each other doing their part at that time. Being that detail-oriented and briefing the staff appropriately gave the day its air of peace that I enjoyed that night in my office.
Ironically, PDI-POA also played a role in the day.
Being the detail-oriented people we are as protocol officers means we have to have a keen eye for what's happening during events. 
As Dr. Rice was exiting the stage from her "Remarks by Condoleezza Rice," I noticed that she laid her notecards on the podium. I thought nothing of it at the moment – until later that evening. When we were seating everyone for the gala dinner, Dr. Rice's assistant came running up to me frantically saying she couldn't find Dr. Rice's notecards. That podium image immediately popped into my head. Mr. Detail then remembered that at 5:03, the student body president was to gather the leftover audience questions from the arena podium to sort through them for the evening's presentation. I knew that he had to have them because there was no time between her exiting and him getting them at 5:03 for anyone else to have gotten them.
I made my way through the large, now flooding-with-people exhibit hall to the front table where the student body president sat. Sure enough, he had gathered everything off the podium at 5:03, and when he had sorted the questions and had them ready by 6:23pm to give to the emcee, he had found her notecards among them! I was able to pass them to her assistant, and all was right in her world. My detail work had paid off!
When I was writing my Thank You letters that evening, I wanted to write to Dr. Rice's assistant to thank her for her help leading up to and throughout the day. However, I did not have her direct contact info. Because of PDI-POA, I knew a colleague of her was our very own Leslie Lautenslager! I accessed our great network, got the assistant's information from the always helpful Leslie, and sent her a Thank You note. I chuckled when I got a reply from the assistant. In her response, she noted what a relief it had been when we were able to find those notecards!
As protocol officers, it's sometimes good to be on top of the details and other times to go with the flow! This day showed me the benefits of both and gave me a dear treasure that influences the work I do to this day.
(Daniel Darnell is the former Coordinator for International Programs, Communication, & Protocol at Oklahoma State University.)
A Day in the Protocol Life of Aracelli C. Fullem
"We make a living by what we get. We make a life by what we give."  ~ Winston S. Churchill
In this season of giving, I thought I would share with you an experience that reaffirms the art of giving.
I often think about how privileged we are to have the protocol experience. A protocol official is always ready to roll his/her sleeves up at all times. But sometimes we need to go beyond the call of duty into resolving situations that are not precisely a part of our job description.
This happened a few years ago, at about this time of year when we were preparing for the end-of-the-year events. I received a phone call form one of our Country Offices in Latin America. A new administrative officer, who, upon settling into his new office in Colombia, had discovered a couple of institutional gifts that had been left behind. He didn't know what to do with them and had been calling different offices in headquarters until someone referred him to me. He was wondering what to do with two paperweights, with the Bank's seal and nicely engraved with the employees' names and dates of service. These were obviously institutional gifts that had been given to the two employees during the annual recognition ceremony, but those gifts never made it to their destination, or perhaps were inadvertently left behind during relocation. We only knew they were many years old.
In a multilateral organization such as the Inter-American Development Bank, it is quite often that different departments share responsibilities. At one given time, the employee recognition ceremony itself was the domain of the Protocol Office, while the funding and purchasing of the institutional gifts were the responsibility of the Human Resources Department. This practice, however, changed through the years with the best interest of streamlining responsibilities. The Protocol Office was ultimately made responsible for the entire operation.
Where to start?
First action was to assume responsibility. I asked the administrative officer in Colombia to send me both gifts. Once I received them the issue became my responsibility.
Second action was doing some research. Knowing your organization is of utmost importance, and research is one of the cornerstones of our profession. 
Third step was actually taking action. And when a unique situation like this surfaces, and there are no written guidelines, no background, no precedent, one has to use common sense as a base. One of the premises of our job is to treat everyone with the same deference and respect. I didn't know who these employees were, yet I was determined to deliver their gifts.
The final action of this sort of unscripted event is usually determined by the circumstances, always ensuring to tilt the balance toward the side of kindness, civility, and respect.
I had found out that those two institutional gifts had belonged to two retirees, who had ceased functions many years back. The Pension Office informed me that both pensioners were deceased, but that there was a survivor widow residing in Buenos Aires, Argentina. This was valuable information.
After reflecting upon the best course of action, I was able to send one of the gifts to the Country Office in Argentina via diplomatic pouch. The gift in its original packaging was accompanied by a hand-written note, and through the good diligence of the Office in Argentina, the gift made its way to the widow's home in Buenos Aires.
A few weeks later, around the holiday season, I received the most touching letter, written by the only son of the employee, who wrote on behalf of his elderly mother, indicating that he and his family were visiting for Christmas when they received by special courier a package addressed to his mother. They were pleasantly surprised by the gesture of someone sending the gift to its final destination after all these years. He thanked me wholeheartedly for that on behalf of his mother and himself. He wrote that this act of kindness had touched their hearts, giving them the opportunity to reminisce on those fabulous years when they were posted in Colombia, some 30 years ago. But he thanked me mostly for the human touch and for having gone out of my way in sending this forgotten gift, in the midst of the end of the year frenzy.
Many times, the intensity of our jobs, paired with our sense of responsibility to fulfill the demands of the day, do not allow us to deviate from our tasks. However, the image of a Protocol Office is impacted by our actions and goes beyond the flawless execution of any event. If there is a lesson learned from this experience, it is perhaps to slow down and always act with kindness.
May this Holiday Season present runs with the opportunity to give the best of us. Happy Holidays to all!
(Aracelli Fullem is an Associate with Protocol Partners.)
A Day in the Protocol Life of Donna Moloney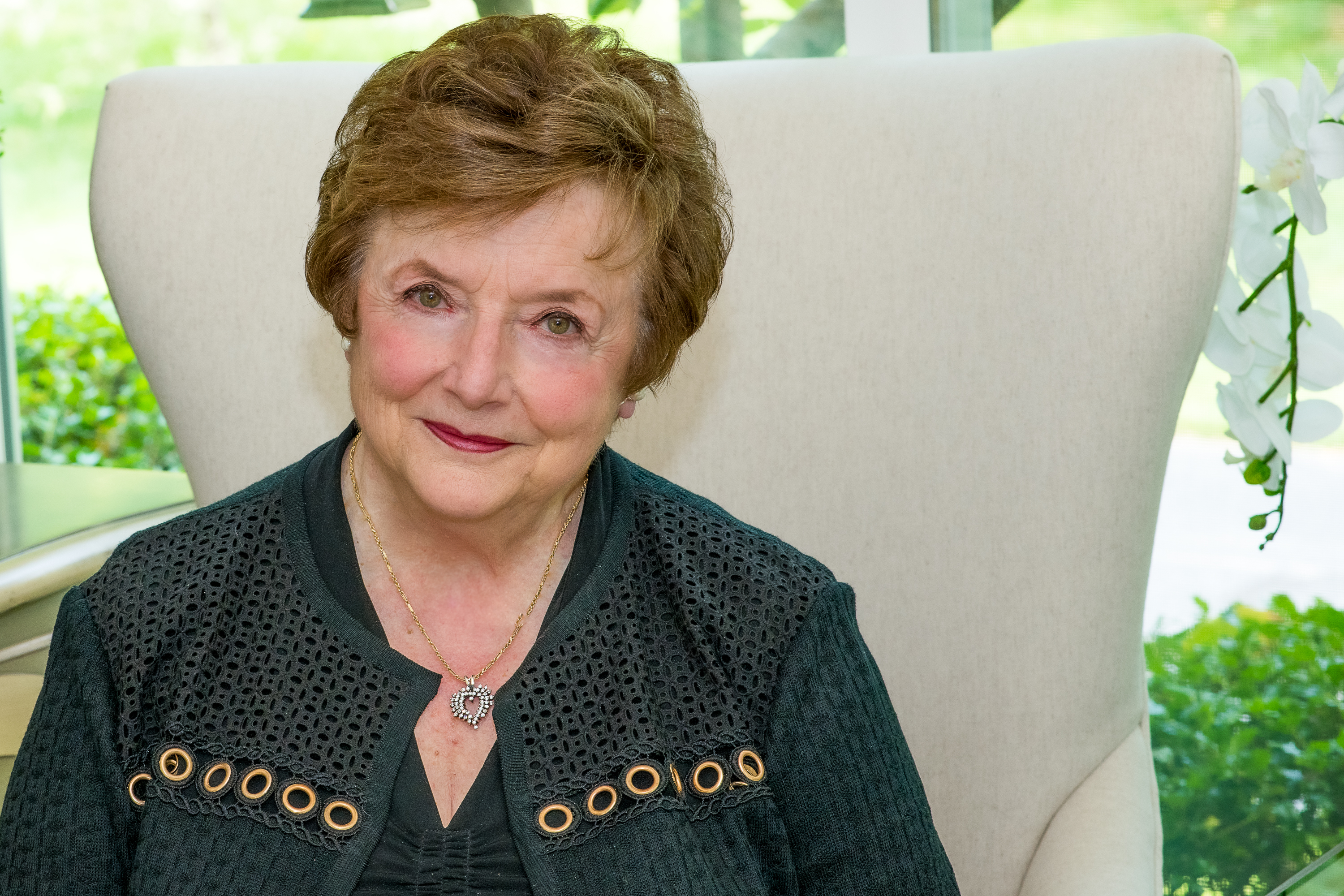 Paving the Princess's Path... Visit of Princess Anne to Lexington...April 2003
Her Royal Highness The Princess Royal, Princess Anne visited the Commonwealth of Kentucky in April 2003, when I served as Director of Special Projects in the Officer of the Governor, Paul Patton. I was assigned the honor of serving as state coordinator with the British Embassy in planning many aspects of the trip and served as the on-site Kentucky advance lead during her stay. 
Princess Anne's primary purpose for the visit was to officially open "All the Queen's Horses" art exhibit from the United Kingdom at the Kentucky Horse Park. A talented equestrian, Princess Anne has an enduring passion for horses and equine pursuits, and has participated often in the Rolex Kentucky Three Day event at the park. The timing of the trip was perfect for a visit by a royal – especially one with a love of horses – as the Three Day event was also happening. Kentucky in the spring is magnificent – a perfect time and another reason to visit!
As a guest of the Governor and First Lady of Kentucky, HRH The Princess Royal, Princess Anne also had several other stopes during her stay planned. One stop in particular, during her 4-day visit, was memorable (and something I will forever envision and recall as a 'moment' in my protocol and advance career).
HRH The Princess Royal, Princess Anne joined state and local tourism and trade representatives for one of the several events – a luncheon at a downtown hotel in Lexington. During the luncheon meeting, the city of Lexington participated in the signing of a "Sister Cities" memorandum of intent with the city of Newmarket, England. It was an important luncheon for all.
Envision this if you will: the motorcade carrying HRH The Princess Royal, Princess Anne pulls up the designated entrance to the hotel, with all the pomp and ceremony, bells and whistles, that accompany such arrivals. Here comes the motorcade – lights aglow, excitement in the air!
Ms. Moloney (yours truly) is standing dutifully curbside, being the signal for the limo driver to stop the car, surrounded nearby with various and sundry security and staff, all awaiting the arrival. The car door opens and Princess Anne steps out, I step forward to greet her, she offers her hand, I take it, we shake hands. So far, so good. I then invite her to follow me to the luncheon.... her entourage and security following just a few steps back. We get the the Lobby of the hotel, and I sort heading to the elevator, as preplanned, being held by security. HRH notices a stairway prior to arriving at the designated elevator, and asks "might we take the stairs instead?" "But of course," is my reply.
Ms. Moloney, carrying nothing but a small 3x5 leather note card holder with business cards tucked neatly in the holder, proceeds up the stairs, followed by HRH and her entourage. After going up the first 8 or 9 steps, I turn slightly and look gently over my shoulder... and much to my horror........................... the neatly tucked business cards have managed to slip out –  one by one by one by one – neatly paving and pointing a path for Princess Anne. What to do? I have been taught well by a ballet instructor as a young girl... "no matter what happens in the performance, just keep going!" Ms. Moloney just keeps going!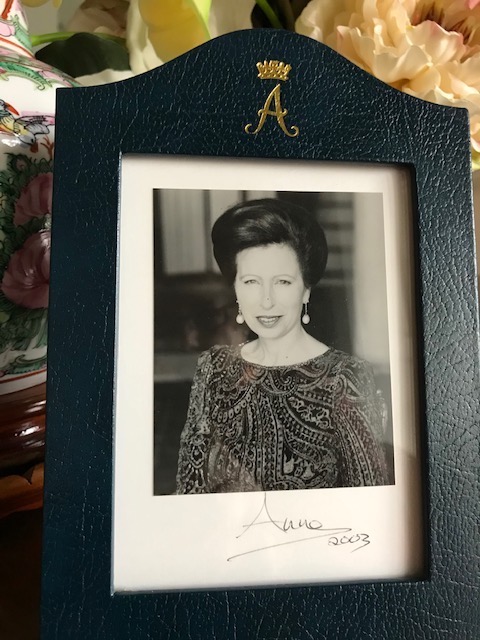 By the time I reach the top of the stairs and lead HRH The Princess Royal, Princess Anne into the luncheon room – to polite but hearty applause, I might add – a security officer approaches me and hands me the errant business cards that had escaped but in an orderly manner! We smile at one another, I express my appreciation, and I keep going!
I can only wonder if HRH The Princess Royal, Princess Anne had a smile or chuckle retelling the stair story... her path paved by business cards! No doubt a first! I know I both smile and chuckle when envisioning this... and will forever more.
(Donna Moloney is Director of Government Relations & Protocol, Alltech, Inc.)