The Protocol Prose Book Club reconvenes at 5pm ET on Monday, 15 November 2021. 
The featured book will be Manners Will Take You Where Brains and Money Won't by Donald James.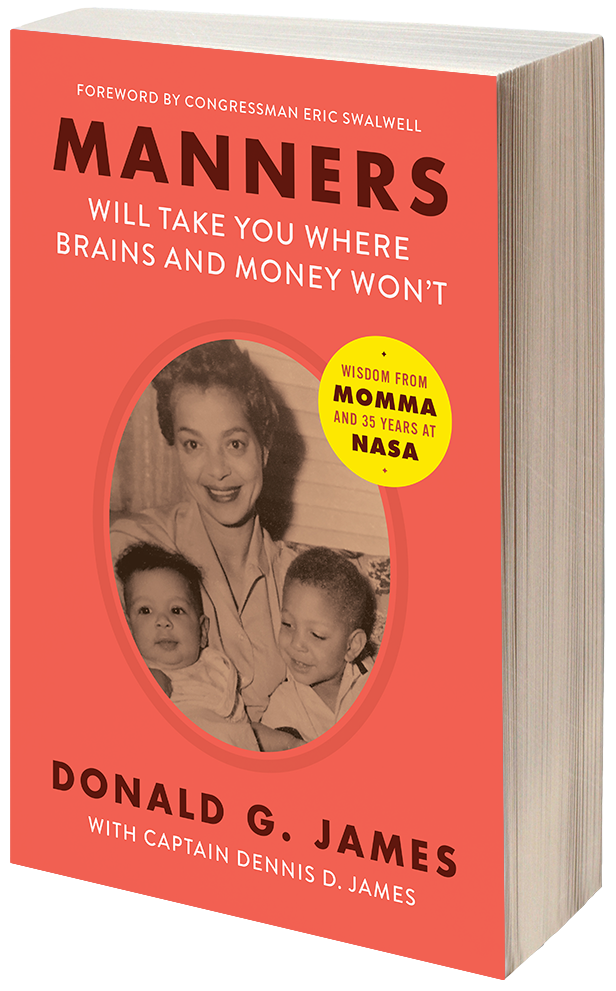 FROM THE AUTHOR'S WEBSITE:
Manners matter. But what are they, exactly?
With Manners Will Take You Where Brains and Money Won't, Donald James goes beyond handshakes and thank-you notes to explain how the true definition of manners is the authentic and genuine way we show up in the world. With inspiring and thought-provoking stories from his 35 years in public affairs and education at NASA, and guided by the lessons his mother taught him, Donald explains how having good manners is a key ingredient to finding purpose, fulfillment, and meaning in business and in life.
With an engaging foreword by Congressman Eric Swalwell, Manners Will Take You Where Brains and Money Won't represents a call to dignity and etiquette at a time in our history when those qualities matter more than ever. The book is an essential guide for recent graduates, young professionals, mentors, human resource managers, and anyone who wants to build fulfilling and meaningful relationships at work and elsewhere. 
About the author:
Donald G. James is a husband, parent, brother, friend and mentor who enjoys reading, traveling and using his experiences to inspire the next generation.
Donald developed an early interest in aviation and international affairs due to his frequent travels with his parents to Africa, Southeast Asia, and Europe. In grade school he learned about the planned supersonic transport (SST) and the new jumbo jet, the 747. The idea that you could fly faster than the speed of sound or in an airplane as gigantic as the 747 captivated him. Both Donald and his brother Dennis wanted to pursue aviation careers. Dennis is now a Captain with American Airlines.  
The experience of living in developing countries and a desire to solve problems of destitution inspired Donald to pursue International Relations and Economic Development academically, though he never lost his interest in aerospace. While considering employment options after graduate school, Donald applied to and was accepted into the Presidential Management Intern program. He was recruited and hired by NASA, beginning at NASA's Goddard Space Flight Center in 1982. He returned to California, transferring to NASA's Ames Research Center in 1984.
Donald decided to make a career at NASA after the tragic Challenger accident in 1986. The loss of teacher Christa McAuliffe and her six fellow crew members, and the tremendous outpouring for the nation's first educator astronaut persuaded Donald that NASA was one agency that could inspire students to be explorers. Donald loves being around smart people doing cool science, building better and faster planes, and designing spacecraft to explore low earth orbit and the cosmos. For Donald, working at the Agency that led America and the world to human exploration of the moon is an honor and a privilege.
Career highlights include: serving as Ames' Education Director from 1999 to 2006; co-leading Ames' first open house attracting a record-breaking quarter of a million visitors in one day (1997); serving as project manager for NASA's successful bid to host the International Space University's 2009 Space Studies Program; being accepted to the Senior Executive Service. Of all the amazing experiences Donald had, he counts one as the most gratifying: a young graduate student told Donald after a talk he gave that she was inspired to go into engineering when Donald visited her 7th grade class a decade earlier.   
In August of 2014, NASA Administrator Charlie Bolden selected Donald to serve as the Agency's Associate Administrator for Education. Donald retired after 35 years—all with NASA—on March 31, 2017.
Donald holds a BA in International Relations from the University of Southern California in Los Angeles. He received a graduate Fellowship from the National Science Foundation and completed an MA in International Economic Development from the American University in Washington, D.C. Donald also studied economics at Cambridge University, England in 1975 and attended Harvard's Senior Executive Fellows program in 2004.
Donald enjoys speaking to groups, especially young people interested in aerospace careers and about the themes in his new book. Donald's book (in collaboration with his brother Dennis) Manners Will Take You Where Brains and Money Won't: Wisdom from Momma and 35 years at NASA is available.
Donald lives with his wife Tanya in Pleasanton, California. They have two children.
---
 If you are looking for options to purchase the book, we can recommend the following:
---
The Protocol Prose Book Club is an exclusive benefit for PDI-POA members. If you are interested in participating in the book club or other members-only events, we invite you to consider joining PDI-POA!